Description
I recommend that you buy all four books together. This is Where I Stand sets the stage for understanding the highly sensitive temperament (yours or anyone's!), and how to resolve the issues that arise from being sensitive with EFT.
The 8 Master Keys builds on the awareness, and offers a map to follow for using EFT to heal what hurts.
And The Discovery Book charts your personal journey as you tap through this map toward healing.
If you are a practitioner, these books will give you a good grounding in the artful, elegant use of EFT as a healing tool for all your clients.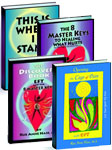 Take advantage of this special offer and let Rue Hass help you start on the path toward healing!
Purchase all 4 books in paperback format for $48.00 plus S&H