Would you like to finally learn how to STAND UP FOR YOURSELF?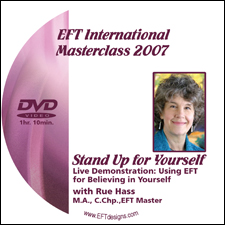 I have developed an interesting game that utilizes EFT and your imagination to totally transform an old criticism or judgment of yourself that feels like it is caging your spirit now.
Remember those transformer toys? You could make a figure change from one manifestation of itself to another with step-by-step changes. Here is a description of one of the Transformers, Optimus Prime, who was able to transform from his regular self into a powerful force for good in the universe:
"Immensely kind and compassionate, Prime puts all his talent to use to improve the world around him, and has dedicated himself to the protection of all life, particularly the inhabitants of Earth; he will battle his foes with unyielding resolve to uphold this belief. In power and intelligence, Optimus Prime has no equal, known as one of the greatest heroes on both Cybertron and Earth."
Now, I personally discard the notion that you can bring peace to the universe by killing off all the "bad guys," like the Transformers intended to do. (Ummm…in Optimus Prime's case he became a semi-trailer truck complete with a combat deck, a scout buggy, and a mystic talisman of leadership that was passed down through the ages…)
I do, however, love the metaphor of…
making step-by-step changes that transform one from feeling helpless, hopeless and worthless…into a stand-up powerful being of compassionate, kind leadership, a force for good in the universe.
The "Where Do I Stand?" Game
With this unique, transformative "Where Do I Stand?" Game, you will choose a limiting belief and take actual steps, using EFT, to change it into a belief that empowers rather than poisons you. This is not change "pasted on" from the outside, hoping it will stick.
You will actually learn how to embody this new belief about yourself so that your actions in the world arise naturally from the strength and power of your own inner being.
Wouldn't it be useful to feel more like Optimus Prime (without the battle gear though!) than Elmer Fudd or Casper the Ghost?
Can you forgive everyone but yourself?
Trying to live through your old family beliefs has been making you sick and sad.
Explore this creative way to use EFT to Stand Up for Yourself with a new sense of emotionally embodied peace.
This ebook, Game to print out and use, and DVD illustrating the process, will give you a simple but profound map to follow so you can point yourself in a powerful healing direction.
The DVD itself can stand alone as a useful tool, and is fun to watch—the volunteer is very spirited and goes through some surprising shifts! The audience is great too. But purchasing the complete DVD package will give you everything you need to become proficient in using this wonderful belief-change strategy. There are printable pages to lay out the This is Where I Stand process on the floor for your own use or to use with clients, along with lots of stories and illustrations to deepen and enhance your effectiveness with this powerful EFT belief-change pattern. It invites healing at the deepest level of identity.
Take charge of your own healing. Feel the changes happening in your own body. Embody your truth!
---