…With EFT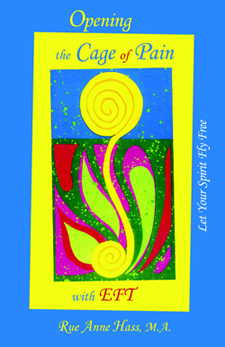 This book is for you, if you have pain or other chronic conditions, or if you are a practitioner who wants insight into how to work with pain, or both.
I believe that chronic pain can emerge from years of hiding, holding back, caging, or repressing our deepest self-expression. Chronic pain is the body's expression of emotional and spiritual pain. Pain gets our attention! It is calling us to free our deep spirit.
We are only just learning how to respond to that call, and EFT is our key to the cage. This material on calming and clearing chronic pain will describe some of the primary emotions and beliefs that hold the cage in place, and how we can use EFT to, literally, free our souls.
We might think of chronic conditions not as "diseases", but rather the evidence of a "spiritual dis-order." When the human spirit is confined over time by negative emotions, thoughts, beliefs, or environments, and is not allowed or encouraged to give itself full expression, the resulting anger and grief eventually show up in the body as pain. By "spirit," I mean what is best in us. I believe deeply in our innate goodness.
This is not a definitive treatment of pain disorders. My intention here is to share the beliefs and emotions that create the structure of chronic pain, emotional and physical, and hold it in place.
Once we can grasp the structure of chronic pain, we can use our own intuition and the excellent tool of EFT to re-frame and re-build it.
Available in paperback or e-book versions. $15.00
Click here to read an excerpt and see just how beautiful this book is!
Click here to read what others are saying about Rue's EFT books.