About Rue
I have been in private practice as an intuitive mentor and coach since 1986, currently located in Boulder, Colorado.
A long time ago, I was a college English teacher. From being a teacher I learned about how to learn, how to think about what was important, and how to communicate that clearly. I also learned that people in positions of authority are given respect whether they deserve it or not, and I set an intention for myself to deserve the respect I was given.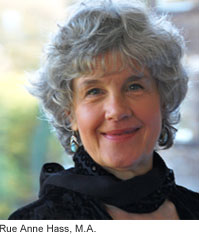 This was in the 1960′s and early 70′s, a time of a great creative ferment in the US and the world. I found myself in the center of this paradigm shift, deeply involved in the women's movement and the anti-war movement, living in an urban commune that shared income, child care and household tasks. Mine was to take care of the household automobiles. (I was also learning and teaching auto mechanics). From the experiences of this time I learned a sense of agency: that I had a place in the world, that we are all part of a bigger picture, that what I did and thought mattered.
For seven years, from 1974-1981, I was a staff member of the Findhorn Foundation, an international center for spiritual and holistic education in Scotland. Here, I was deeply challenged to learn and experience my own spiritual truth, independent of spiritual teachers and what other people said were prerequisites for spiritual progress. I learned to surrender my prickly anger and personal power in order to open to love.
Since then, I credit much of what I have learned in life to the bright enchantments and difficult challenges of motherhood and marriage. My daughters are now in their 20′s, beautiful young women from the inside out. I am profoundly honored that they set me up with their friends for coaching sessions when I visit them.
Underneath it all, what really powers me is an intense curiosity about the evolution of consciousness and a deep love of the world. I think of myself as a "Wise Woman in Training."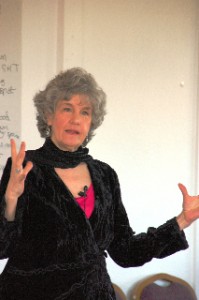 When I first meet a new client/customer/co-creative partner, I walk them through an interesting process of understanding their life as a story. It concludes with asking them to consider what they want their life to leave in the world as a legacy. How do they want the world to be a better place for their having been here?
When I contemplate this in myself, and ask, "What do I want to focus on in this phase of my life, as a culmination of everything I have learned and gained?" what emerges for me is the concept of "spiritual eldering." This impulse finds expression in my work with individuals and local groups, inviting and assisting people and communities to move into a sense of the real transformative power of their spiritual Presence in the world.
I particularly like to work with young people, adolescents and young adults as a mentor/coach. I have always been drawn to the kind of kid who might find him/herself in trouble in school, academically or socially, but who on the inside is bright, sensitive, perceptive, intuitive, often artistic or athletic, deep hearted and imaginative, and who just doesn't fit the norm. I want to make it easier for these young people to find their place in the world. I think they are here to save it.
I am inspired by the work of David Spangler (Everyday Miracles; Parent as Mystic/Mystic as Parent; Blessing: the Art and Practice):
" ….each of us is a collaborative participant in the unfoldment and co-creation of the world. We are each direct links between the primal creative act – the Word from which all things spring – and the world in which we live our daily lives. We are embodiments of that Word and we speak it in our own unique ways through our lives. This speaking of the creative Word is the essence of a new emerging 'incarnational spirituality.' Experience the empowerment of spirituality as support for our ordinary lives, integrating us into the world, based on the sacred in the personal rather than only the transpersonal."